The above picture was taken on 3rd March 2020 at the Organization of Women in International Trade (OWIT - Nairobi) Monthly Breakfast Meeting held at the Fairview Hotel - Nairobi. We were celebrating International Women's Day and the discussions were around this year's theme #EachForEqual.
As you can see from the picture, Covid-19 did not feature anywhere. No social distancing, no sanitizing, no hand washing messages, no virtual things, just good old human to human connections. Women coming together to discuss how to grow their businesses. As a panelist, I spoke on my area of expertise. On how e-commerce is the now and not the future; a must-have strategy for every business.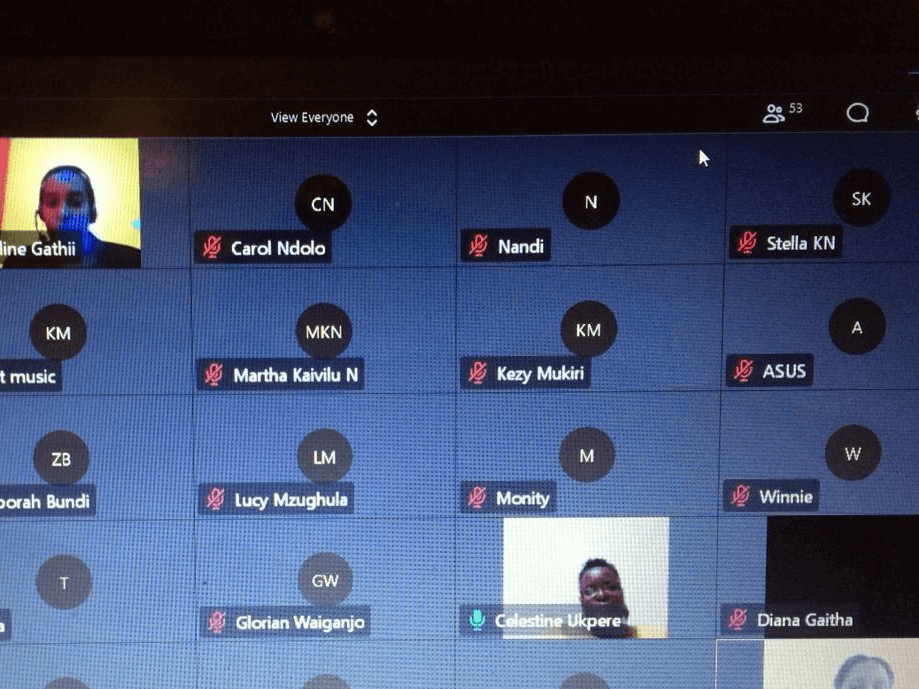 Barely a month later, life has happened on all of us. Covid-19 is now upon us.
On the 31st of March, I was invited back to facilitate a virtual meeting on how businesses can leverage technology and innovation to thrive beyond Covid-19. This was a bitter sweet moment for me. Faced with a crisis, here we were, all 50+ of us women entrepreneurs, majority from Africa and a few friends from across the world, looking at how we can very practically use technology and innovation to sail through this crisis. While I was sad that the pretty faces had been replaced by muted microphone icons and black screens, it was a moment to celebrate the small wins, to acknowledge the power of technology and the opportunity that it presents especially for African Women in Business.
They say that with every crisis comes an opportunity. It's paramount for every business to re-evaluate their business models and re-strategize in light of the current happenings in the world. We at Amari Consulting are committed to supporting businesses especially SMEs and women owned businesses in Africa to navigate these tough times by adopting e-commerce strategies.
This is a very anxious time for everyone. Some businesses are getting to use online channels for the very first time. The need for technical support and capacity building in skills and knowledge in this space cannot be over emphasized. In the true spirit of #EachForEqual , let us all strive to play our part and offer the much needed support where we can.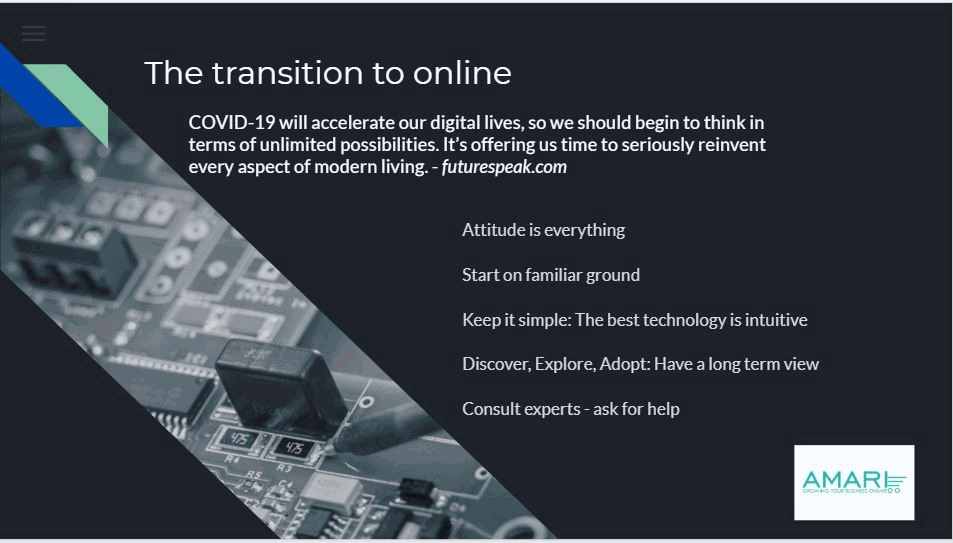 Full presentation can be accessed through the below link.
Leveraging Technology and Innovation to Thrive Beyond Covid-19
As always, if you would like to be supported at this time to develop your online strategy and to sail the e-commerce wave, write to us (hello@amariconsult.com) and we will be in touch.
Godspeed!
Abigail Bundi
CEO & Co-founder
Amari Consulting Ltd
This article was published on April 9, 2020